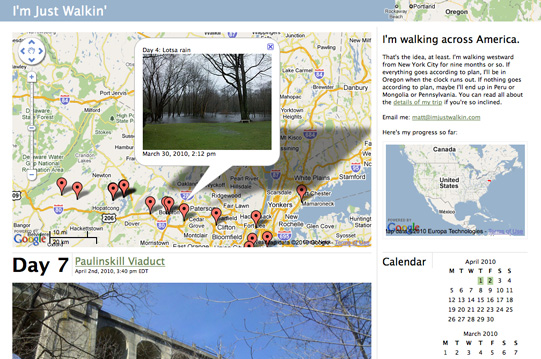 I've been following an interesting adventure of one man's walk across America that I thought I'd share. His name is Matt and he's pushing a little cart that is loaded with all his gear from New York to Oregon. The best part is that you can closely follow his adventures as he updates his website via a smartphone, sometimes several times a day with the photos of the people, places, and his other experiences so you're never more than just a few hours behind him.
You can find him at his website
I'm Just Walkin'
. Just click on the sidebar calender to get caught up on his journey then you're on your way. A good interview about his journey can be found on
John Greenfield's blog
.Matt meets kindly folks along the way who let him camp in their yards, fields, or barn and sometimes right in a real bed with a nice hot meal to boot. He also has an ongoing roll of awesome mailboxes along the way which are quite interesting. Matt is a great writer/photographer and you will quickly get addicted to his descriptive captions which tell his story well.
I've always been interested in the adventurous pursuits of others since I've had a few of
my own adventures
over the years and I'm especially interested in common people that do extraordinary things.Give him a visit. Who knows; it might be you out there looking for adventure one day!