Looking at society as a whole, there is no other character trait that I admire more than a person who is determined to become his own person, even if it means grinding against societal norms. When a man decides that it's time to pick up what he owns and move deep into the Alaskan wilderness to live close to nature and to the land, to build his own log cabin home with his own hands, and to spend more than 31 years in that occupation, then there is no more kindred spirit to my own walk in life.
As seen in the picture to the left
Dick Proenneke
was one such man who at the age of 52 left everything behind to fulfill his life's mission. In 1968, when I was just 12 years old, Mr. Proenneke traded in his job as a master diesel mechanic to live the next 31 years in a
log cabin that he built
at the base of the Aleutian Peninsula, in what is now
Lake Clark National Park & Preserve
. At his death in 2003 Mr. Proenneke had willed his homestead cabin to the National Park Service where his legacy still lives on today.
As you can see from the picture to the right, Proenneke is posing inside of his famous dutch door that has been the focus of many conversations among master wood workers for it's amazing craftsmanship. I have heard that making the trek to visit his cabin is worth the journey just to see the perfection in art of those wooden hinges and latch. One day I will visit and see it for myself.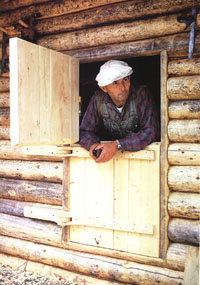 Proenneke also fashioned many of the tools used to build his cabin as seen in the picture below. He was a master craftsman and spent much of his time on creating his own homemade furniture and devises that are a powerful reflection of his woodworking genius.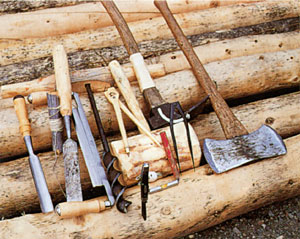 Fortunate for us Proenneke took the time to film the construction of his cabin, almost in a step-by-step manner as though he wanted to leave something of his experience behind to share with the world. In 1973 his friend Sam Keith edited a volume of his journal entitled
One Man's Wilderness
. In 2003 a documentary film,
Alone in the Wilderness
, was produced from Proenneke's recordings and it is often shown on Public Broadcasting stations.
To many, Dick Proenneke is thought of as a modern day
Henry David Thoreau
but there is one profound difference: Proenneke lived in his Twin Lakes cabin for over 30 years and Thoreau lived in his cabin on
Walden Pond
for just over 2 years. Not to diminish Thoreau because he did make a profound mark on American culture, but Proenneke has also made his own unique statement about life and living for men to ponder upon for many generations to come.
While living in an age where more and more Americans are looking to big government for the answers to their societal ills, it's refreshing to remind ourselves of the rugged individualism and self-reliance that can still be found by those determined to live their own lives. Proenneke lived those values which made America strong in the beginning and I only hope that they remain important to future generations.
The film below gives a small glimpse into the mind of Dick Proenneke which reminds us of the things that really matter in life.